We're Getting Mutants in the MCU - The Loop
Play Sound
SPOILER WARNING!

This article

(all of it)

contains

manga-only

information. Please be careful if you haven't read the manga.

The mobile version of Wikia doesn't support spoiler tags, so proceed with extreme caution!
Ilblu, or Iruburu, is a village in the 6th layer inhabited entirely by Narehate, created by the three Sages. The force field does not exist in the village, and by extension, neither does the curse.[1]
Narehate in Ilblu take the form of what it is they most desire, and are granted the village's protection. In exchange, they are bound to the village, and a force field prevents them from leaving.[2]
The village itself seems to be somewhat sophisticated. It has restaurants, inns, and a system of currency.[3][4] 
The main industry in the village is trading based on the concept of "value." The inhabitants are constantly trading and bartering for things of equal or higher value.[5] An item's value seems to be self determined by whoever is in possession of the item, as well as by the village itself based on the importance the item has to its owner.[6] It is such an important concept, that when a customer damages an item before it is paid for, an event called "The Balancing" occurs. A noise rings out across the village, and one of the perpetrator's possessions of equal value is destroyed. The perpetrator may even be maimed in order to compensate for the defacement, if the value of the damaged item is high enough.[7]
Humans are of especially high value, especially human children.[8]
Furthermore, inhabitants of the village are able to use the Balancing, or a concept attributed to it, to seemingly use it as an omnipotent tool of creation, or recreation, as long as the user has a concise image of what they desire and can compensate for it. However, it isn't specifed if the value compensation is based on the creators perception of the thing to create or by the understanding of the village of it.[9]
It also is unknown if it is possible to use "lower value", which manifests as currency of the village, to compensate in this instance or if it requires the use of the one's body as the only instances of usage had the respective inhabitants compensate with their bodies.[9][10]

Since the Narehate of Ilblu cannot leave, the only way they can hunt is to lure prey into the city.[11]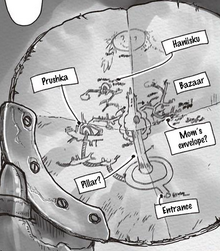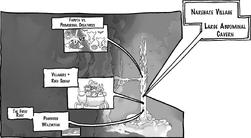 History
The village was created by members of Ganja, who originally set out to find ,what natives called, "Shourou's Golden City" on the 6th layer of the Abyss.[12] After learning from Interference Units they met that they wouldn't be able to return to the surface, Ganja set up a permanent camp on the 6th layer.[13]
After some time, many Ganja members got ill and Belaf found out that the cause of the sickness was the water they had been drinking, due to it being infected by some unknown creature of the Abyss.[14] During the time of the illness spreading, an Artifact was discovered, by members of Ganja who hadn't fallen ill, that granted the deepest wish of a person while holding if their mind wasn't too "complex"; Cradle of Desire.[15]
Vueko requested it to be given to Irumyuui, a native girl who had accompanied them as guide, in hope to save her from the illness. Wazukyan, the leader of Ganja, agreed and the Artifact was given to Irumyuui.[16] The Cradle of Desire caused Irumyuui to transform and gave her the ability to birth creatures without organs for ingestion, dying shortly after birth.[17] Ganja resorted to use them as source of sustenance, as they lacked other viable options.[18] At some point in time, a second Cradle of Desire was given to Irumyuui by Wazukyan.[19]
Over time, Irumyuui transformed more and more until she reached her final stage with the ability to transform humans into Narehate.[20] In this form, she had already lost her consciousness and became the base of the village.[21] Due to Vueko not agreeing with this, she tried to take her own life and was imprisoned in the part of the village that used to be Irumyuui's head, in order to keep her from harming herself.[22]
Some time later, Faputa was born, due to the wish Irumyuui had made with the second Cradle of Desire, and unlike the Narehate transformed by the village who can't leave it, Faputa can't enter it.[23]
After Reg had brought back body parts of Faputa into the village to trade them for Nanachi, it reacts to them and Juroimoh starts to attack to claim the parts.[24] In the battle with Juroimoh, Reg shoots his incinerator creating an opening in the village causing damage to its protective boundary and it starts to disperse.[25][26] This leads to a confrontation between Faputa, the villagers and Reg, which is ultimately interrupted by creatures of the 6th layer swarming into the village and beginning to wreak havoc.[27]
The village started to crumble and fade away completely after Faputa used her control over it to start a process of taking in its remaing value and it ultimately vanished completely leaving only rubble from its collapse behind.[28][29]
Language
Ilblu has an extremely convoluted language system, wherein the meaning of words tends to change back and forth. For example[30],
"Iruburu" (Ilblu) means:
"village" 50% of the time
"cradle" 40% of the time
"mother" 10% of this time
"Jakopufu" means:
"to request" 40% of the time
"special" 30% of the time
"stimulus" 30% of the time
"Konbosu" (Understood)[31]
"Kefukeferi?" (What is its rough value?)
"Maen" (A generous affirmation)
"Ngamu" (A generous negation)
"Mimiu" (Excuse me a moment)
"Ienme" (Thank you) (80%)
"Riezoochi" (Sorry)
"Famo" (See you later)
"Sansaika" (I want to go)
"Rahossu" (I want you to do this for me/ Please)
"Shukaeigiitsu gosshusosu" (You will go bankrupt if you buy me)
"Kobuchakkyuu jinshiitsufaffu" (Do you know of a robot and a fluffy one?)
"Rahochusosu jinshiitsufaffu" (I'm looking for a robot and a fluffy one)
Other phrases[32][33][34][35][36][37][38][39][40][41]:
"Hadimae" (Whoops/ Ah/ Exclamation Point)
"Ngangamadeimo" (I don't understand)
"Menme" (Come in)
"Fasshenburee" (Let's do this, everyone)
"Indemaen" (Of course)
"Rahoossu" (Do it now, please)
"Sazonfattsu" (Metal Wire Squad/Wire Team)
"Wiigorii" (Hold it down)
"Mepopohon" (Sleepyhead)
"Haniisuku" (Inn)
"Shazara faberasozu debei" (The scent of your blood is attracting beasts)
"Jimuntsu modikopoh" (What are they talking about)
"Madimo" (I don't know)
"Adimono jimuntsepo" (They are talking in the newcomers' tounge)
"Modipoh" (What is that noise)
"Rie" (My bad)
"Abuee" (She is inside)
"Imigootsue" (She is still inside)
"Bigoou" (Now)
"Zoi baajyu" (She stopped moving)
"Menbuesu" (Go)
"Menbuee" (Move)
"Jyazuraru Mugumodi" (What beast is that)
"Mijumo" (No idea)
"Baajazusu Jizumoo" (Even the auctioneer hasn't seen it)
"Konboissu" (Sure)
"ENnu sosu" Brought them out this way, have you?)
"ENnu HONdINDEbuu sosu" (So you really brought "their" child out this way)
"FURUFU de fabera" (Damned Narehate)
"Mandappu! Famosu!" (Thanks for the meal! Until next time!)
Points of Interest
Central District
North District
West District
South District
East District
Other places
Trivia
According to Wazukyan, it has been 150 years on the 6th layer since the village was created.[42]
An inhabitant only ever mentioned in name, without having an appearence in the story themselves, is the Narehate puppet maker, named Jezun. [43]
References